And action!
My mind plays many tricks on me with this one. It often starts acting and generating ideas long before or long after I am surrounded with at least some of the necessary equipment for the scene of creative writing to take place. For example many ideas come when I am taking a shower or just about to put my head on my pillow to sleep.
Then when I am in the process of writing, it often takes another turn and doesn't follow the "brilliant" thoughts I had before. This disappoints my brain. I deliberately say it is my brain who is disappointed in that given moment and not me, because at some point of time when I look back at what I have written I do find some pieces, which are even better than the initial ideas.
Finally, when I've finished writing for the day, or morning or afternoon, thoughts appear, which are various versions of the following, "There's no action, no fire in your writing!"
These thoughts appear in respect to work in progress, so I feel an urge to stress myself with improving and improving.
They also appear about already published work.
My first book "The Truth About Family" is very special to me. It is based on a true story of my father, and I find this story so exciting and gripping.
But then I react in my thoughts like a person who would want to diminish the merit of this work and think, "Somebody will think it's boring."
Now as I recall this, my answer to this thought is, "Of course there will be someone who won't like the book and will find it boring. Probably because this person has different interests. But do I write for this person? No. I write for those who might be moved by this story, like it moved me."
The interesting thing is that these negative thoughts do not appear when I open the book and read a passage and remember both my father and so many inspiring moments during the creation of the book. These thoughts appear when I complain about something completely different in the first place and don't realize it. So any uplifting and constructive thought is dismissed with a annoyed hand-wave.
What helps is to let myself observe all my internal and external reactions, independent from whether I label them as good or bad. Then I am able to experience the fun of my writing process and the products of my writing.
I discovered that when I reread something from my published books, I can't stop reading it before I finish a passage or a chapter. There is this novelty, this curiosity, "Did I write this?"
And the fun thing is to realize that every time I read a piece from before, I am a different person with at least slightly different views and inclinations. So I can always experience my books and articles anew and I can experience the world around me — which includes my creations — anew.
What helped me reach this point of more and more frequent moments of kindness to myself?
Two things. The first is practicing awareness and being fully present in the moment of now. A simple but brilliant approach of instantaneous transformation developed by Ariel and Shya Kane is a fair, kind and honest companion helping me realize that my thoughts are not me. They were acquired through my life as I have acquired and learned speaking as a child. And I continue acquiring them as I interact with the world around me. I might choose listening to them and then I might as well let them be. Depending on what these thoughts bring with them, a creative idea when I am there to create or a fearful one dreading the unknown.
The second great helper for me is the feedback from my friends and fans.
There must be something to it when you hear from your readers and friends say or write something like this about your writing:
"I read this book from beginning to end the day I received it. It was captivating! An easy to read book and one of the best books I have read all year."
or
"This is a very well written story about finding your identity and yourself in the young years, and I was drawn into the author's universe from page one. It is one of those books you don't want to finish, because you have come to care for the persons and their stories."
Both reviews above were written about "The Truth About Family", the book, of which my brain feared being labelled as boring.
If you have doubts about your writing, observe yourself, the room around you, everything in the given moment of now, and then look closer.
Look closer and you will find scenes in your manuscript, which you wish not to end.
Action is in your nature. It keeps you alive. So there is also action in your writing. Just hold on to the feeling of excitement you know from when you read a captivating book. Observe yourself and you will find more and more often moments, when you experience the same while writing and later reading the pieces you wrote.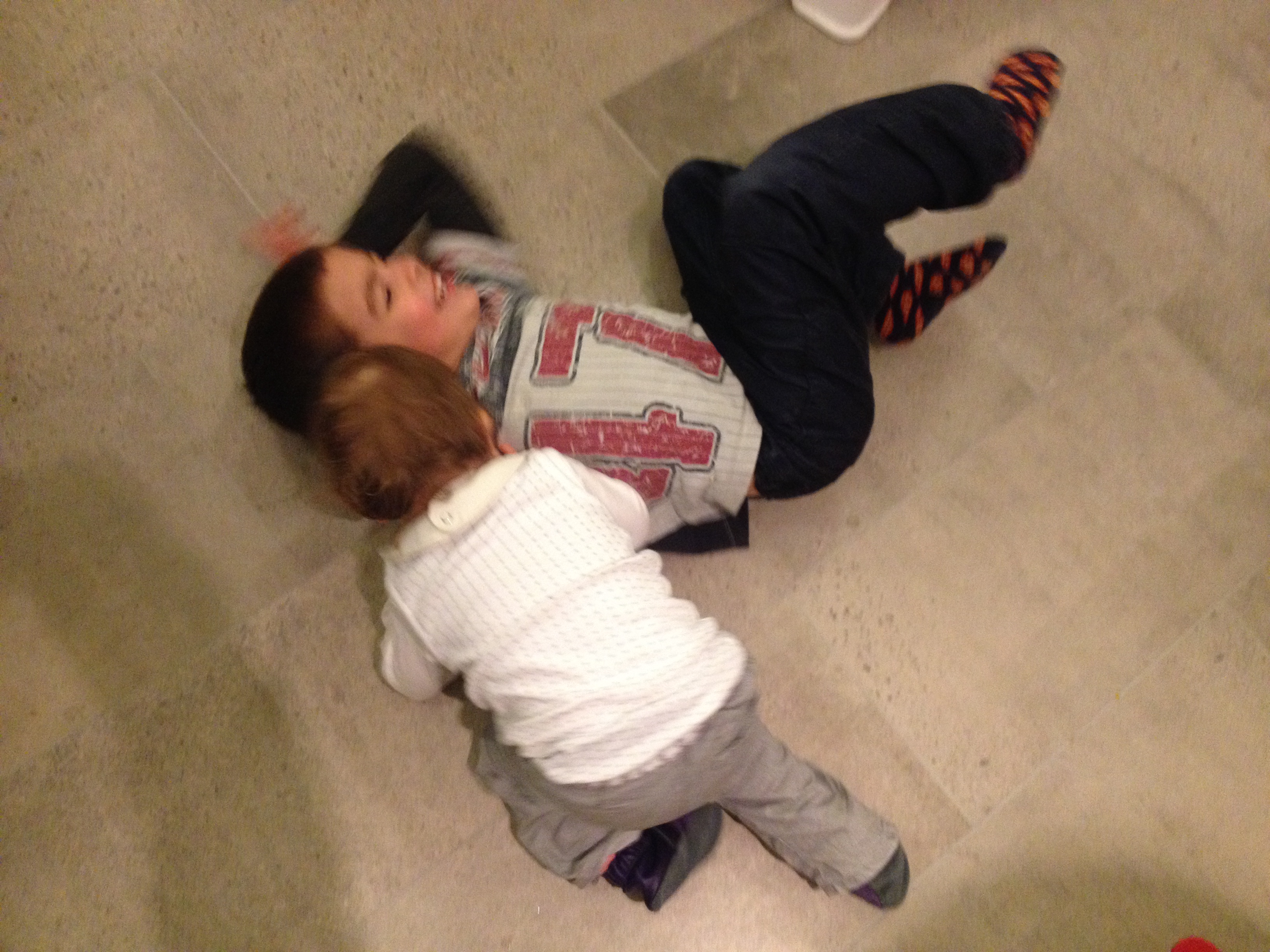 Picture: I caught the sweetest action there can be for a mother to witness. Her children playing. Or in this case rather hugging. My daughter Emma hugs by leaning hear head on the person she wants to hug. She attempted many of these head-hugs with Niklas yesterday. And sent him into multitude of giggles, because he is extremely ticklish.
"Cheerleading For Writers", copyright © 2016 by Victoria Ichizli-Bartels