I'm talking a lot about my brain (and human brains, in general) in this guide, and how observing its worrying and survival oriented nature — and observing it without judging it — helps me stop complaining and instead pursue what I want to do, for example writing.
I have also mentioned creativity of this wonderful nature's invention in my head. Creativity, when producing new worries.
But of course it is also creative in constructive ways. During generating and realizing new ideas. During the true and inspiring creative process, which lets me grow spiritually and bloom also physically.
And there's another way my brain can be creative. By creating dreams.
Rational, or constructive ones, which motivate me to be curious and passionate about what I am doing.
And then, there are illusions.
The Frankfurt Book Fair, and later due to the geographic proximity and a lower scale Gothenburg Book Fair , were my big illusions when I was writing my first book.
This is what happened.
Big book events fascinated me. I never attended one, even not until now.
I did attend some other big fairs. The Hanover Fair, for example, where I manned one of booths of the Technical University Darmstadt in the late 1990s . There I had a taste what it means to be one of the exhibitors and also go around and network as a visitor.
The same happened almost ten years later at the ILA Berlin Air Show (International Aerospace Exhibition and Conferences). I was there with the German branch of the company I have worked with at that time. My colleagues and me were thrilled to have visitors at our booth and gather new leads and create new business relationships for our company.
As an avid reader I fantasized about Frankfurt Book Fair and what it would mean to walk between all those shelves with new books, open and get a sneak peek into newest releases.
As soon as I decided to self-publish my first book, I threw away the fantasies about finding my books in a bookstore, and instead another fantasy appeared. A fantasy of me sitting at a booth at a book fair with a pile of my books on a table in front of me. And people going by, with some of them stopping by, looking curiously at the books, putting them back, and sometimes buying one, then two, then more. There was no vision for the end to this fantasy, like selling all books, just people being curious about my books and sometimes buying them.
I didn't have any serious intention or plan for this, just a dream. But with the dates for the fairs (both in Frankfurt and Gothenburg) coming closer, I started feeling stressed, because it became obvious that I wouldn't only be able to publish my book until then but also not be able to finish writing it.
OK, with this not being possible and being told by a fellow writer that exhibiting books and buying a place at a booth was extremely expensive, my brain switched to another fantasy. I have heard about a Self-Publishing Book Award by Writer's Digest and other similar events by Amazon and other organizers. I got frustrated that I didn't seem to make those deadlines either.
As I became aware of those multiple frustrations, and with the help of instantaneous transformation technique, I started to look what might be the source for these frustrations. And the answer was an idea that if I make it to a book fair or win in a writing competition then I will feel better as a writer, that then I will feel accomplished.
As soon as I realized that I became dumbfounded.
Really? Only having exhibited my books at book fairs or having won competitions could define me as an accomplished and satisfied author?
I couldn't believe what my brain was generating because this was simply not true. The facts were the complete opposite.
These are the facts. Every time I sit down and write I experience accomplishment. Every time I go through the texts I have written I find there something I am not ashamed to share. And every comment, every feedback from a reader shows me that my books, my articles touch them.
Yes, some of my readers don't write to me or comment after reading my books or articles, but this doesn't mean I fail as a writer.
Not the number of feedbacks and not even the fact that I am not yet earning my full living with my writing make me feel as a writer or not. What really touches me is that I have found at least one very close friend through my writing alone. And I continue making friends through my writing. Or the friendship between me and my friends tightens as we read each other's books or enjoy other results of each other's creative processes, like music for example. And this is absolutely priceless!
Slowing down and becoming aware of all this was and is, every time I realise it, an immense gift. I am thrilled that I have the possibility to practice and experience this again and again.
The illusionary and self-deprecating thoughts still come time to time, especially when I go out of my comfort zone and am about to jump into something completely new and unknown. But with awareness of the true value of writing for me, these thoughts became less and less frequent and they are not that loud anymore. I realize that these illusions and thoughts implying that I am not good enough are just recordings I have learned through the culture I grew up and which was laid stone-by-stone, judgement-by-judgement, by many generations before me. Today I realize more often that in every new moment I have a choice to make. To write and enjoy the creative process or to complain and compare myself to some strange and diffuse version of myself (whom I actually don't even like). And I realize that I am not alone in these discoveries, that more and more people make more and more often the choice to create and be active instead of being afraid, and instead of daydreaming illusions.
Coming back to the process of writing as my goal and enjoying the creativity including its surprises and emotions it generates in me, produced results I have never expected. Along with moving houses, working as a consultant and managing a family with two small children and a new business, I have published a novel, a novella and a short story within one year, including full revision and editing process, then I have written and published on my site two short e-books, I finalized several manuscripts, which I revise now and will publish this year, and I am working on at least three other works-in-progress.
In addition to this, I have also submitted one of my books to the Self-Published Book Award at Writer's Digest.
Whether it wins or not is not the point of it all.
Something else matters. I express myself in my writing and I experience what my writing generates in others. And I learn how my motivation and passion to write infects my fellow writers to do the same.
Yes, all this matters and enriches me.
Dear writers, dear friends, please observe yourselves and how your readers react toward your writing. Even the negative feedback shows that your writing has steered your reader. And if you let your heart flow into your writing then I am sure that there will be at least one smile on the face of at least one of your readers. And this is what counts! Nothing else.
There is a cute tendency I have noticed. Negative comments and reviews on Amazon seem most frequently to appear first when the writer becomes popular with a growing number of readers. Then the wave of popularity sweeps a reader who might not enjoy this particular genre. But if you are like me — as I write this article — at the beginning of a writing and publishing career, then enjoy the support and motivation of your cheerleaders, who truly enjoy your writing. They might enjoy reading your work as much as you enjoy writing it.
Here is to the true gems we have and can enjoy now in this moment and not to illusions, which can bring us off track and fog our vision on the amazing ways we have chosen to walk!
Happy writing and happy creating!
Picture: without noticing and pushing it to happen, a dream came true. I have experienced seeing a pile of my books lying on a table in front of me. Not at a book fair, but at my very first author talk organized by the South Gate Society School of Creative Writing in Aalborg. The evening, at which I'd read from my books and answered questions by an audience who came specifically to hear me read and talk and who were interested in me as an author, was simply unforgettable and surpassing all my illusionary dreams about book fairs.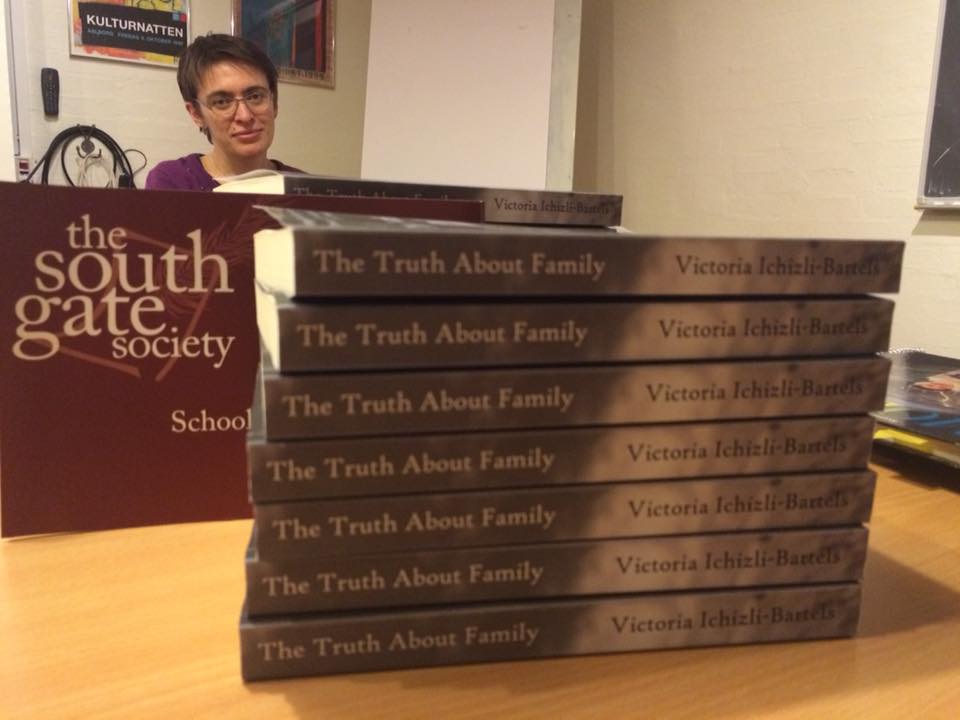 "Cheerleading For Writers", copyright © 2016 by Victoria Ichizli-Bartels