Two topics for me as a writer were almost as daunting and scary as the birth of my first child were for me as in 2010 a soon-to-become-mother.
These two topics were show-don't-tell and hooks at the beginning of a book or a chapter.
There were positive examples I came across, but the wrong and utterly bad rang the loudest bell to me and I readily pictured myself to create only the bad kind of hooks. It seemed so easy to start a book badly, as a heavy and long birth of a first child was often claimed to occur more probably rather than as a pleasant experience.
I tried many beginnings for my first novel "The Truth About Family". I tried also many forms of the same beginning, attempting various voices. I contemplated a long time to use or to discard the prologue, then I tried to squeeze the back-story and the inciting incident into the same first page of Chapter 1.
I started feeling desperate after writing and rewriting the first couple of chapters of my book. It looked like I would never be able to go over the beginning, since it appeared so terrible to me. Or at least not brilliant enough.
So what helped, since you have probably already heard that I did finish the book, and that this project was and still is very special for me?
My solution might not work for everyone, but it was ideal for me. I continued writing the story.
I wrote further mostly because I promised to get the story going. I promised it to three people, two of them being my beta readers, who read my book chapter-by-chapter, and one was my writing teacher, dear friend and best-selling author, Menna van Praag, in frames of her monthly international tele-seminars I've been participating in through the year 2014.
At some point of my continued writing I forgot all about the bad beginning and the bad first chapter.
And at a mostly unexpected for me moment the bad-hook-dilemma had resolved all by itself. This is how it happened.
According to the practice during those international writing seminars with Menna, I submitted three pages for Menna's review. For that particular session, I submitted three first pages of – at that time – Chapter 9 of my book.
Menna sent me a written review with praise and constructive critique. But the light bulb went on during the phone session with all of us, her 9 students for that day. As Menna commented on my contribution, I learned something very special and very personal. An experience what a great hook meant for me, how it felt and how how I could recognize it for my writing.
Menna said, "I really enjoyed your three pages." And then she said something, of which I recall almost each word since two years. Menna asked, "Why don't you start your book with this chapter? You don't have to put chapters sequentially in a book. You can come to the 'start' of the story later."
I felt a wave of recognition showering over me. Here's why.
This particular session I referred to above was my second with Menna. That means that for the first session I sent her the Chapter 1 and for the second Chapter 9. I left seven chapters in-between untouched. I looked through them, but I wasn't drawn to revise them and send any of them to Menna. Instead I let myself being guided by, what I call now, my fun detecting antenna and chose the Chapter 9.
A year after that fateful seminar with Menna, I read an article by Rachel Aaron called "How I Went From Writing:  2,000 Words a Day to 10,000 Words a Day". This article addressed her productivity as a writer. One of the three criteria she discovered working best to enhance her productivity and increase her wordcount reminded me of my hook-experience.
Here is what Rachel wrote in the section of her article titled "Side 3: Enthusiasm":
"Those days I broke 10k were the days I was writing scenes I'd been dying to write since I planned the book. They were the candy bar scenes, the scenes I wrote all that other stuff to get to. By contrast, my slow days (days where I was struggling to break 5k) corresponded to the scenes I wasn't that crazy about.
This was a duh moment for me, but it also brought up a troubling new problem. If I had scenes that were boring enough that I didn't want to write them, then there was no way in hell anyone would want to read them. This was my novel, after all. If I didn't love it, no one would.
…
This discovery turned out to be a fantastic one for my writing. I trashed and rewrote several otherwise perfectly good scenes, and the effect on the novel was amazing. Plus, my daily wordcount numbers shot up again because I was always excited about my work. Double bonus!"
Today as I write this article, I've checked on those old submissions to Menna's writing seminars and found out that even before reading Rachel's article and after the revealing seminar with Menna I did intuitively do the same. I let myself be lead by my enthusiasm.
This is what happened at the third seminar with Menna. I made the old Chapter 1 to be the second after the famous and by now treasured Chapter 9. As I let myself contemplate a bit about this chapter, I recognized that its start was slow because it was rather melancholic. The following scene was good and also engaging but the start was dragging because that protagonist was going with a head hanging low to the school master's office. So I asked myself what could have happened before? Well, he was obviously sent to the school master's office. But by whom, and where was he before that? That lead to a dynamic and interesting scene between adolescents bickering with each other (or rather one bickering at the protagonist). And this dialogue revealed some features of my characters, especially the protagonist, which I tried to reveal but couldn't until that moment in the seven chapters untouched for some time. Here was a clear show-don't-tell! And I found it just by identifying what made me enthusiastic, when I addressed that chapter.
So I followed my fun detecting antenna again. Even in the chapter I thought initially being a bad and boring one.
This fun detecting antenna helped me write a highly praised hook for my second book right from the start. Menna suggested that I test it by starting with another scene and after doing so I noticed that it wasn't working. The first solution was working best.
All these experiences were and still are amazing. Sometimes I forget my fun detecting antenna and force myself to write something I have started but what clearly isn't flowing and simply doesn't work. But I discover more and more often, just like Rachel Aaron did for her wordcount, that fun factor isn't a bonus, it's a must for quality, because in that case the author puts his or her whole self, including heart, soul and best of the brain into their work.
Dear friends, if you have any remote fun reading these articles, then you can stay assured, and probably have noticed by now, that the topic choice and writing of the articles in this guide, were done by following my fun detecting antenna.
What kind of signal does your fun detecting antenna receive right now in respect to your work-in-project?
Picture: Worries tend to keep my look down. When I relax and recall inspiring passage in Menna's latest book "The Witches of Cambridge"about how people rarely look up, I do just that, I look up, discover how beautiful the world is, and if I let myself be led by fun and enthusiasm, then I stop and capture the moment, whether with the camera of my mobile phone or with my heart. Last week my fun detecting antenna let me photograph a blooming tree on the way from Emma's day-care to my home-office. Allowing myself to have such moments boosts the best in me both in respect of creativity and productivity.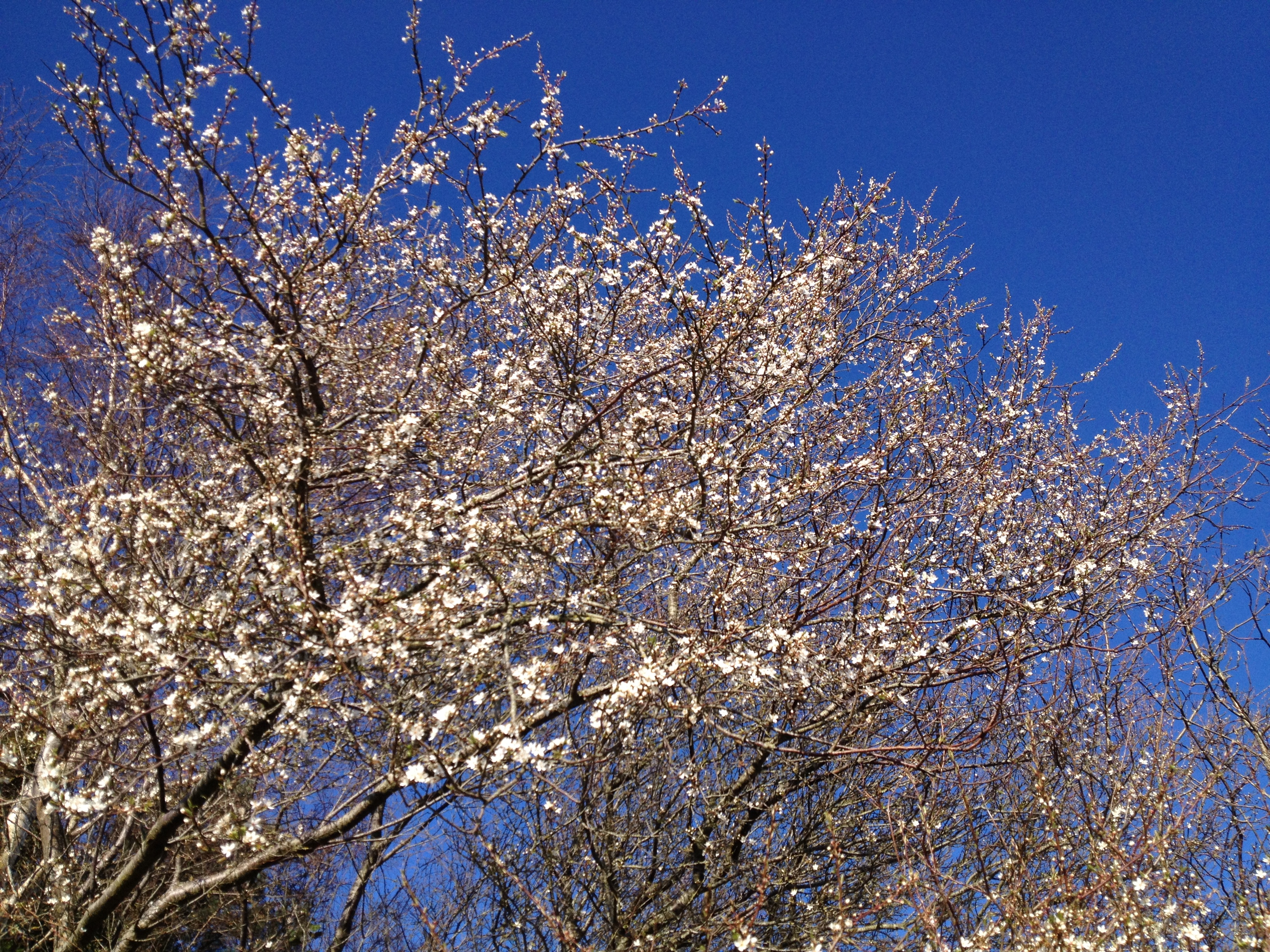 "Cheerleading For Writers", copyright © 2016 by Victoria Ichizli-Bartels