Like almost any other term I've addressed in this cheerleading glossary for writers, research shows all signs of relativity.
Research doesn't bring the cherished words to paper or computer screen, but it can inspire their appearance and creation.
On the other hand research can also "swallow" a writer and save her or him from writing — this longed for but still unsettling because creative process.
Let's explore research using the mightiest diagnostic tools, the seven key questions, Who, What, Why, When, Where, How, and How much about research.
Who should research?
Any writer (of course!), independent on the genre he or she is writing in. The answers on the other questions below will give more clues to this as well.
What is research?
In his book "Creative Writing: A Guide and Glossary to Fiction Writing", Colin Bulman said that,
"Readers expect the background to fiction to be accurate and authentic."
This definitely applies even more to non-fiction. But also to fantasy and of course science fiction.
Colin Bulman has named reading, interviews, corresponding, visiting various places outside and buildings, watching films and television, and of course the Internet as the main means of research.
I surely agree. But I learned that reading, asking others, corresponding and watching in respect to the background of a story one writes might not be the only source of inspiration.
One of the greatest resources for me are books and articles on writing craft and art of publishing. I'm an physicist and engineer as my background, and engineers often share solutions to the challenges they face. They apply those solutions to the task at hand and create a new solution out of them. And this is what I found to be the most effective and efficient for me as a writer.
Like in anything else there is no need to re-invent a wheel, even if it is the latest model of high tech wheel with one thousand and thirty five edges instead of a completely round shape. We as writers can look at the latest model and say, "Wow, that's great! What happens if I add six more edges and see how this wheel will act in my seven-wheeled car of a story?"
We are all inspiring and can learn from each other, whether we are writers, engineers, doctors, housewives, children, students, pensioners or someone of a completely different background.
Why research?
The quote by Colin Bulman above gives the answer to this question. There is also another possibility, which comes to my mind. And it is about having fun. In order to have fun you simply have to keep on learning, finding and discovering something new. Continuously.
Coming back to the question above — what is research — we can say that research can be also experimenting either with various lines of a story or literally experimenting and trying to do what our characters do, like for example flying a plane (as David Walliams did for one of his latest books "Grandpa's Great Escape").
So, yes, this is why research is important. It lets us grow and learn new things, have fun and communicate this enjoyment to our readers.
When is research appropriate?
One could also ask here, "What exactly should a writer research and in what situation?"
I discovered that for me the most urgent point to put a manuscript aside and do some research is when the following thoughts appear in my head about a historical detail or a fact, "I got this. I don't have to double-check this. It's not that important anyway." Especially when these thoughts start to become too loud in my head so that I have to stop the actual writing. In that moment I know my brain is arguing with something authentic and true in me, which is eager to learn.
If in this moment I wholeheartedly surrender and open a search window on the Internet or a book from my shelf, then I catch myself often holding my breath, like I am about to find out a secret. However strange this may sound, but I am sure that exactly this feeling is one of the factors that keeps writers writing, researching and traveling around the world to find more exciting details for their stories or go and do crazy things like having oneself be arrested in order to find out how it looks, feels and smells like being arrested and sit in the back of a police car (as Angela Ackerman did for her and Becca Puglisi's recently published "The "Urban Setting Thesaurus: A Writer's Guide to City Spaces").
Where can research be done?
Today research can be done anywhere. From home, while traveling to a certain setting, or in a setting created by yourself, whether virtually (with cards on a corkboard, by gathering images and links on one's computer) or physically by building a certain setting in one's garden. One of my greatest inspirations here is Nora Roberts. She uses all kinds of settings, and invents characters with almost endless variety of backgrounds and moods into her books. Especially the places she describes in her books are inspired both by the life around her or from far afar. And if she doesn't have a certain setting then she creates one of her own. She had a hotel being built out of an historical building in Boonsboro, a small town in Maryland, where she lives. After having built that hotel, Nora Roberts had used the experiences gathered during the design and building of the hotel as well as from the pizzeria owned by her son and situated on the other side of the road where the hotel is situated, and of course her imagination, in a romantic trilogy called "Inn Boonsboro Trilogy".
So there are not limits to where to research. Of course the financial means can set some limits, but not necessarily. By using the methods mentioned above you can still create or recreate a setting you are looking for while never having been there.
One of the most memorable writing exercises for me was to write a story about a character coming from a country I had never been before. I wrote this fictional piece about a man, named Matti and coming from Finland, shortly before I was on a business trip to Vaasa, a city on the west coast of Finland. I did and posted a number of writing exercises on my blog, but I do remember this one as one of my favourite. I guess the challenge to research and to write about something I knew absolutely nothing about before that was the fun factor here.
I'd like also to mention photographs as a special place of research for me. You could say that they are rather the means and I would agree, in general. But for me they are also a place to come back to. A very special place in my heart is occupied by the pictures from my father's childhood and youth I used as an inspiration for the book based on my father's story, "The Truth About Family". I carried the copies of these photographs almost everywhere I went and I took them to help me answer the questions the story was posing. Sometimes they posed questions I answered by writing the story. My bookshelf with books, postcards, and photographs is definitely one of my favourite places for research.
How to research?
Various methods of research were mentioned above. But the ultimate combination of questions of all questions here can only be answered by the given author for his or her story and their particular state of mind and circumstances. A pregnant author, a mother of five children, a woman who never had children, a father of a newly born, a parent who lost a child to cancer, every one of them and anybody else will approach research on a child illness completely differently. And with this a seemingly same story will end up being absolutely different, its light being broken through their individual prisms of perspective and experiences.
How much or how long to research?
A short answer is, "As much as necessary, and as long is it is enjoyable and rewarding."
I would have argued with this answer in the past saying, "But if it is so much fun then you might get lost in research and never write again."
However some time ago I discovered this statement not to be true. When I researched an event for my first novel "The Truth About Family", I mentioned above, I found myself reading multiple articles on that event. I seemingly couldn't stop reading all that material. One might think that I got interested by this event and what happened then even if most of those details where not bringing my story further. When I stopped and observed myself I noticed that I wasn't having fun with that particular research anymore. I was simply afraid to make the next step and find out what the subsequent scene would be.
Today, the day after I wrote the first draft of this article, I discovered the following quote by Baltasar Gracián y Morales:
"Without courage, wisdom bears no fruit."
In other words, when the courage is needed, then it is the high time to stop researching and do the work.
What a great clue to find out when the answer, we are after, is found, and when to stop researching and come back to writing, isn't it!? Yes, fear and especially becoming aware of it can be a useful clue to find out what is to be done next, and what is the best point in time for it to be done. To find the point of now.
So research is a mystery just like the writing itself. The balance act between the two is amazing and definitely worth exploring and testing again and again.
What, why, when, where, how and how much do you research for your stories?
Picture: My bookshelf next to my desk and printer, having on its top a photograph of my father, one of my husband and myself in the year we became parents, a pen holder in form of a pile of books with a beaded flower made by my mother. This shelf is one of my favourite points of research. It contains a wild and often changing mixture of books and magazines on writing craft, some of my notebooks with a few stories started and yet to be finished, grammar books and dictionaries in some of the languages I am studying, the books I wrote and published, photographs, postcards, books on art, science, history, picture books from Moldova, Africa, France, Germany, United States, Great Britain (and especially museums in many of these countries) and so much more.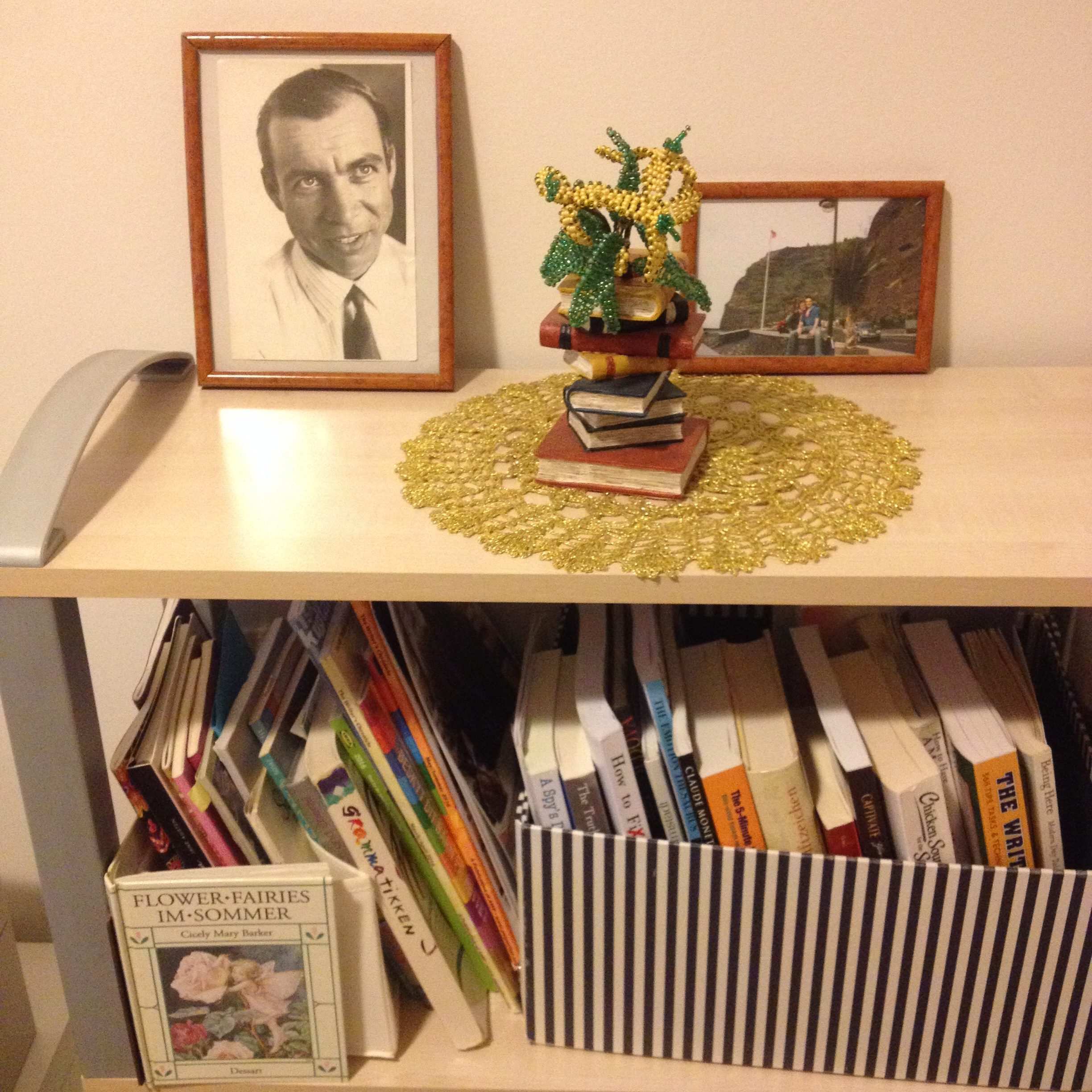 "Cheerleading For Writers", copyright © 2016 by Victoria Ichizli-Bartels