In the article starting with an E, we've talked about editing, and what emotions might rush through us when we open a file with our manuscript sent to us by our editor.
Recently I have found myself struggling with self-edits. As I write this article, I am in the process to incorporate the second self-edits of my soon-to-be-published book on business rules, mainly targeted at small businesses. The self-edits on paper went on some days easily and a bit slower on others. But they didn't stagnate for a few days in a row. However incorporating them into the manuscript on my computer did. For more than three days in a row.
The reason was simple. The pages were full of hand-made notes. In case of some pages it seemed sometimes that changes needed to be made on every row. Apart from that I realized two chapters had to change places. This would mean at least some modifications of the text inside those chapters, but maybe also those adjacent to them.
I didn't expect so much change to come in the second self-edit. I thought something like that came in the first self-edit, not the second. Today, I am actually not quite sure which of the self-edits was harder for my previous books, but my brain had this idea of self-edits gradually becoming easier with each new edit. I guessed wrong. At least for this mentioned non-fiction book.
Was this erroneous expectation the reason for my procrastination? I don't know now, I didn't know it at that time and it probably didn't matter at all.
What mattered was how to move from there.
Inspired by my "gamified" style of work — my notebook with to-do lists carries the name "Victoria's Game Book" — I came up with the following idea. "Why not give myself a point for implementing each change, whether it is a X (deletion), insertion, or both, in the text?" I thought. "If I do so, then I would concentrate on each step, because points can only be gathered one by one in this case. While working on one of those changes I might forget about the daunting appearance of the whole project and just be busy gathering those points."
I can report now, this approach helped. I stopped counting the points for each edit and incorporated change at some point, but this approach did let me step over my procrastination and reclaim fun in working on every stage of my projects again.
I read recently that playing games at work might be very motivating but also with some negative by-products. One of these negative side effects was the apparent decrease in productiveness after the motivating game had finished.
But what if we don't stop playing? What if we take every step in the projects we pursue as a draw or turn in a strategic game?
Do you remember the famous quote by George Bernard Shaw, "We don't stop playing because we grow old; we grow old because we stop playing."
We don't have to stop playing at all. Life is a fun game. Let's play it. Let's stay young.
Each project has of course its game rules and we are the game designers, who develop and adjust them. The main adjustment we have to make is how to bring the fun factor into the project we have to carry out. And remember, we ourselves, are also the customers, the players of these games we design and develop.
Gathering as many points I can for the given project is definite fun for me. Once I managed to gather 15 points in a day, by addressing many small and urgent tasks. I felt extremely elated by the end of the day.
Now I am off to my next project game of today, which happens to be the self-edit work I mentioned above. As I edit and post this article for the Cheerleading for Writers, I gladly report that I have a good chance of finishing this previously seemingly daunting second self-edit today.
And what's your next project game?
Picture: I saw this dress a couple of weeks ago while walking down my favourite pedestrian street in Aalborg. I guess wearing a Pokémon dress would definitely gamify one's day. How can you be possibly be overly serious wearing that dress? 😀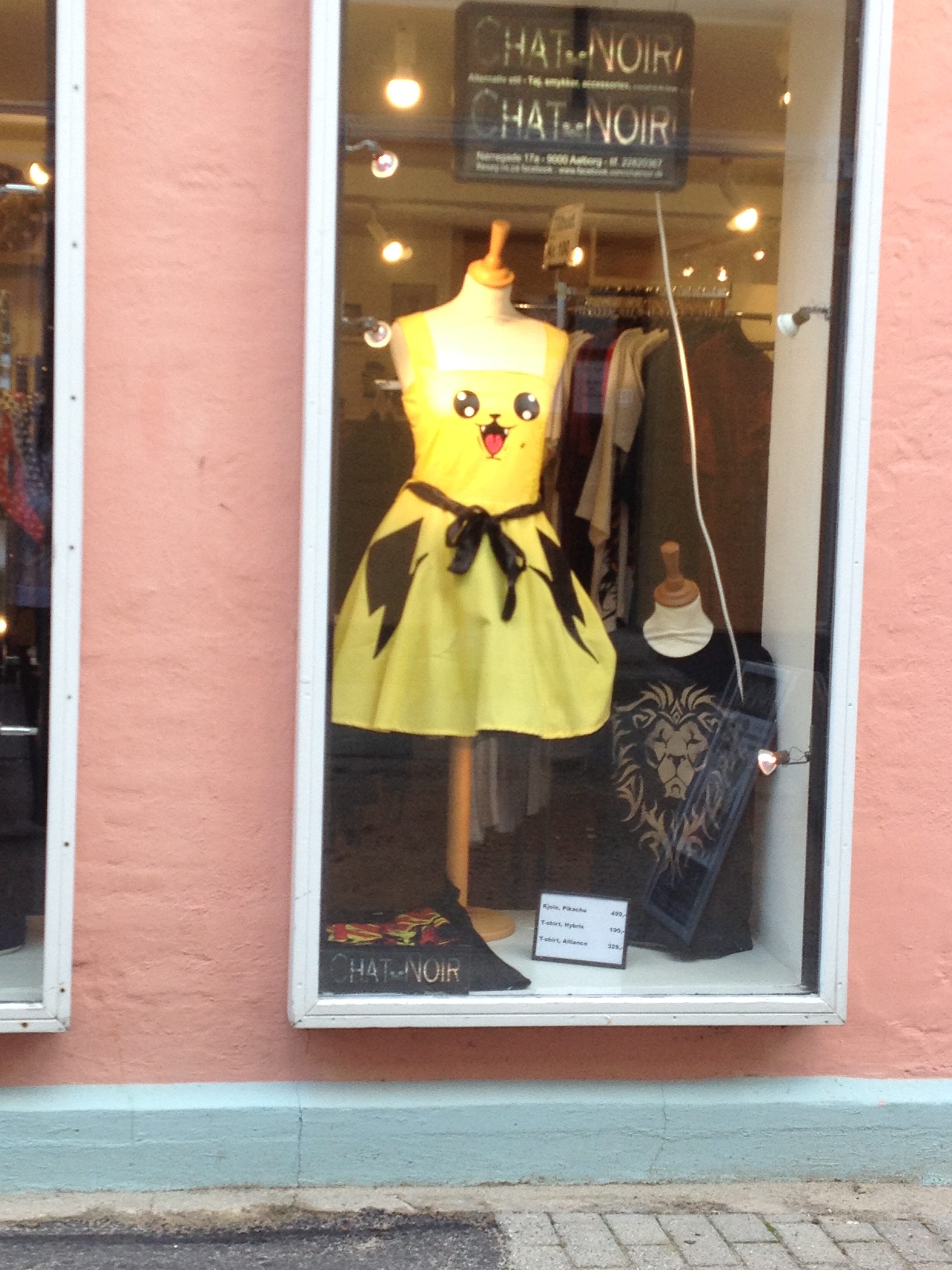 "Cheerleading For Writers", copyright © 2016 by Victoria Ichizli-Bartels