Dear friends,
The time since the last newsletter (mid December) was one of the busiest I ever had in my professional life. And not only due to the holidays. Or rather less because of the holidays. They were as wonderful and recharging as always when we celebrate it with the family.
The busy side comes neither from external projects, since just like my family and me, most people took a break from work.
I did take a break from work (that is business side of my work), but I continued writing (and publishing), which helped me finish and start several projects in January.
You've heard already about the launch of "A Spy's Daughter" a few days before Christmas. The freshest additional news here is that I have already received the edits on the prequel and my cover designer, Alice Jago, is working on the cover this week. So the prequel to the series "A Life Upside Down" called "Seven Broken Pieces" will see the light in February.
The free story "Nothing is As it Seems" is also well on the way and its end is near. I am very curious how exactly it will be.
I have also re-worked my very first short story and after that sent it to my editor. And I got the edits back this past weekend. This story was already published on my blog, but I have adjusted and edited it heavily. So it improved a lot and I will offer to download it free on my site soon.
My motivational resource for writers, "Cheerleading for Writers" is also taking shape. The three introductory and the first of the twenty-six alphabetically ordered posts are published and receive positive wave of likes and retweets on Twitter.com.  If I write it in similar pace as now (one post a week or most every two weeks) I might finish it this year. I am very excited to see how it will develop.
Besides continuing writing my works-in-progress and preparing those finished for publication, I learn a lot about promotion and marketing. I am working with BooksGoSocial to promote my first book "The Truth About Family" on various social media. It is very exciting to see many tweets about my book and see how the whole community there is supporting each member. I became a member of their two groups on Facebook and started supporting other writers there and on Twitter as well. I still got to look into other Social media they advertise at. There is so much to learn and find out. I am very excited because this is truly a new world to me. Here is the link this service created for my book. Apart from the description you can also read the first page of the book there.
And then there are many extremely exciting things awaiting me in February. Writing and publishing are two of them. But I am also thrilled about my collaboration with the South Gate Society (SGS) School of Creative Writing  here in Aalborg. On the one hand, I'll be involved into their teaching process. Last year I have given an introductory course on Creative Nonfiction for their students and this year I'll teach several courses on various topics. On the other hand, LeAnne Kline Chistiansen, the CEO and founder of the SGS, offered to organize an author evening for me, at which I will read from my books and share stories of my life as a writer. This is so extremely exciting! (How many times write I say exciting or excited in this post already? ;)) It will be the very first reading from my published books. I'll report in the newsletter next month how it went.
In the meanwhile have a wonderful second month of the year 2016, enjoy reading, writing, your families, dear and loved ones, your work and any other passion you have in your lives!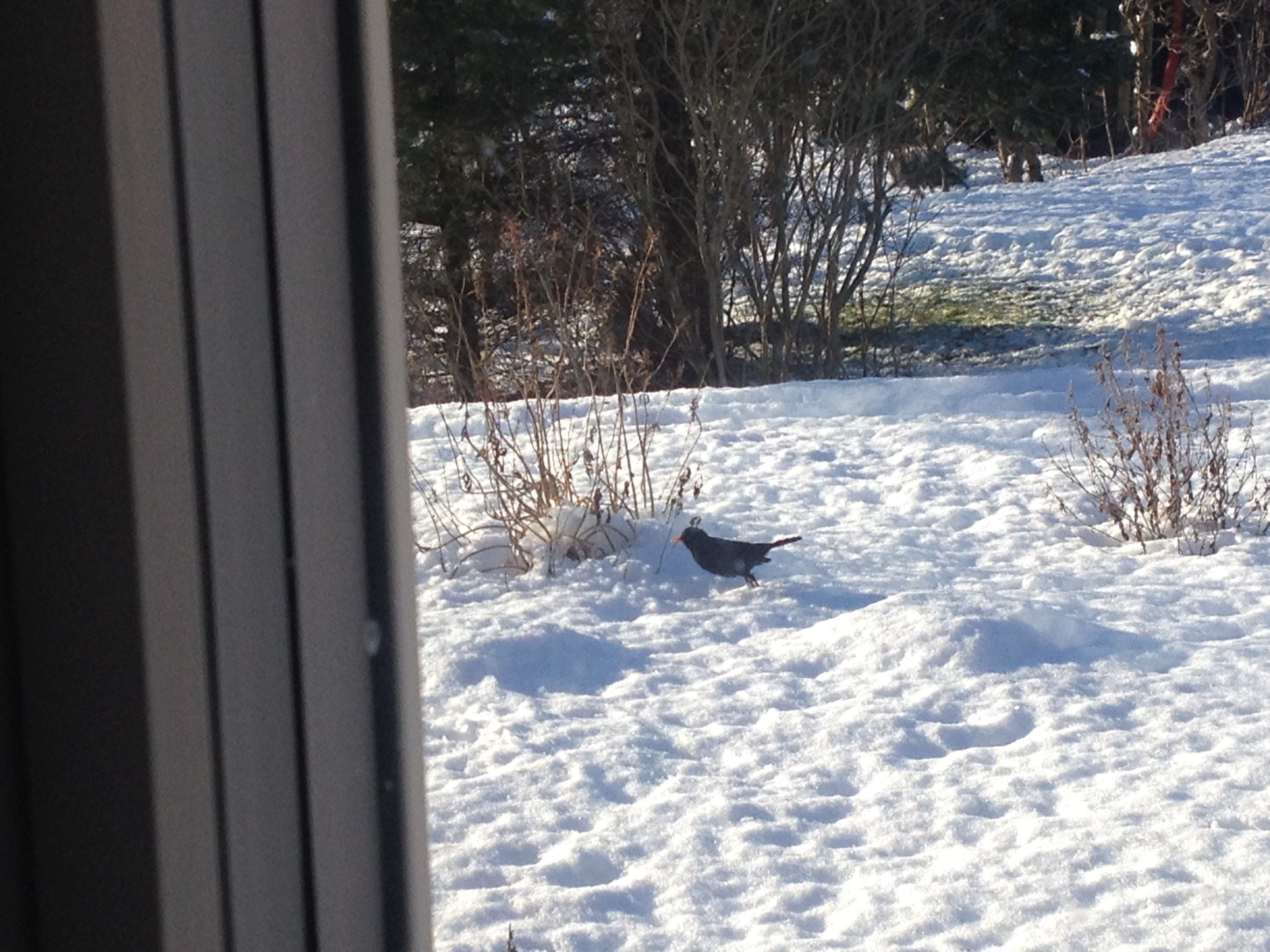 Picture: A guest in our garden.