Recently, I have finished writing and sharing with you, here on my blog, the "Cheerleading for Writers" project.
So now the blogging-a-creative-book space is free and I decided to offer it to fiction.
There are several books projects I started some time ago and left to pick up later.
I realized that the most challenging for me at this point of time would be to write "A President's Sister", the second book in the series "A Life Upside Down".
There might many reasons, why it is most challenging. I guess the most prominent of those reasons is that I discuss this project quite a lot in my head, especially whether it is worth to write it now, when I have so many other projects to do. "But you are going to continue blogging on writing, so you might as well do it there," my creative brain drops in.
Yes, I might as well do this and I will do.
I actually think now that it might be the best solution for this series. I remember how, when I was writing the first book "A Spy's Daughter" and the prequel "Seven Broken Pieces", there was a certain urgency to get the story out there, and at the same time realization that I needed to take time to elaborate each scene, so that the reader is captivated instead of being rushed through.
So blogging a book (or in other words writing and posting it bit by bit) in this series, might be a solution and I think it is worth to try.
In the next posts I will start posting chapters and/or scenes of this book. But I will also share the writing process with you and my experience during research and re-reading the books I have already written in this series.
I am actually gathering the experiences on the latter right now. I've read the prequel recently and read the book 1 these days, a chapter or so a day, and I must say the experience is very interesting. It is as though I am getting to know the person I was when I wrote those books. She is definitely a different person than the person I feel right now to be. Not better, not worse, just quite different. My brain does try to compare. But it is quite impossible, because the life moved and moved me with it. And now it is time to write a new book. 🙂
As soon as this second book in the series will be published, I will remove this first draft from my site, because it is only meant to share its creation process with you. Maybe I will keep the articles on the writing experience. But the story itself will be deleted as soon as its polished and improved version will be out there on Amazon and other retailers.
I had a great experience of undertaking a similar endeavour with "Nothing Is As It Seems" and enjoyed it very much. So I am doing this again and welcome you into this adventure with me! 🙂
Click on the title of this new project at the end of this sentence to read the short description of "A President's Sister". I will update this regularly to add all the links in relation to this project.
Picture: me and my sister Svetlana when were children. If you have read "A Spy's Daughter" and happen to know both of us, then you might have recognized some of our traits (not all 😉 ) in both characters. My beautiful sister is on the right. A small anecdote about my love of being photographed as a child: I've been told to have thrown the toy you see in my hands into the photographer. 😉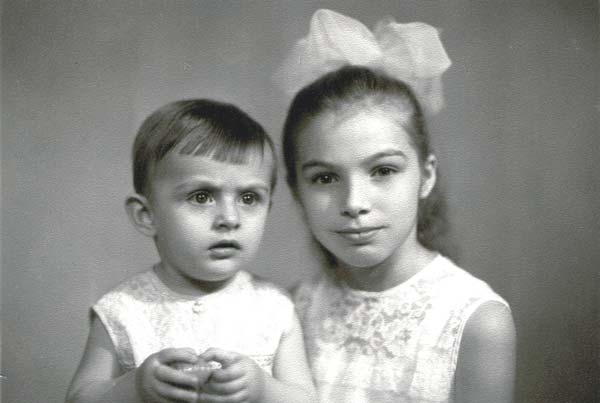 Copyright © 2016 by Victoria Ichizli-Bartels