The second and the third books I published since I started my self-publishing career make a part of a series "A Life Upside Down". These books are a novella and a short story. The former is "A Spy's Daughter" and is the Book 1 in the series and the second is "Seven Broken Pieces", which is the Prequel (or Book 0) to the series.
Within the past three weeks, these two books have received a very encouraging feedback.
First, I was let know by a fellow writer on the following 5 star review on Amazon.com for the "Seven Broken Pieces":
"I liked this writers story, different & original. It is a prelude to a series which should be very interesting. Her life changed because of a misunderstanding of expectations, kind of sad but she does not let it ruin her and her journey as far as this short story goes is gripping. Read it one sitting – held my interest completely. Looking forward to the next book."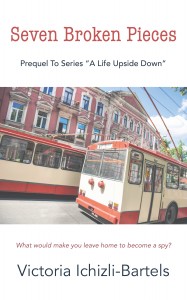 And then just a few days ago I got another message.
A little back story for this before I share the feedback I received.
On March 15th of this year, I have submitted "A Spy's Daughter" to Writer's Digest Self-Published Book Awards Contest. I had a wish to submit one of my books there a year before that, when I was preparing my very first book "The Truth About Family" for publication. Back then my book wasn't published yet, but by the time the contest was announced this year, I had three books published: a novel, a novella and a short story. So when I saw the announcement in the beginning of this year I decided to give it a try.
I will post the whole text of the e-mail below including the evaluation, because the ranks make the picture of this evaluation more complete, and also show where the book excelled and where it would have profited from some improvement. The brilliant contribution of all who helped me with this book is visible through these high grades as well.
The judge's commentary from the Writer's Digest Self-Published Book Awards Contest is simply perfect. And not quite because of the praise or at least not only because of it, but because it showed me what was strong in this book and what in my writing could be improved. It also surprised me by the idea that the book would make a great screenplay. I used to think that I never liked reading screenplays. And now I happened to have written a book which could have made an "excellent" (as the reviewer wrote) one.
I am very much grateful to both reviewers, because their feedback contributes in my continuously growing motivation to further follow the way I have chosen for myself.
So here is the text of the e-mail that kept me awake with excitement in the night after I received it.
"Entry: Title A Spy's Daughter
Author: Victoria Ichizli-Bartels
Judge Number: 69
Entry Category: Mainstream/Literary Fiction
Books are evaluated on a scale of 1 to 5, with 1 meaning "needs improvement" and 5 meaning "outstanding". This scale is strictly to provide a point of reference, it is not a cumulative score and does not reflect ranking. Our system only recognizes numerals during this portion of logging evaluations. As a result, a "0" is used in place of "N/A" when the particular portion of the evaluation simply does not apply to the particular entry, based on the entry genre. For example, a book of poetry or a how to manual, would not necessarily have a "Plot and Story Appeal and may therefore receive a "0".
*If you wish to reference this review on your website, we ask that you cite it as such: "Judge, 24th Annual Writer's Digest Self-Published Book Awards." You may cite portions of your review, if you wish, but please make sure that the passage you select is appropriate, and reflective of the review as a whole.
Structure, Organization, and Pacing: 2
Spelling, Punctuation, and Grammar: 3
Production Quality and Cover Design: 4
Plot and Story Appeal: 3
Character Appeal and Development: 4
Voice and Writing Style: 3
Judge's Commentary*:
I'm a big fan of spy fiction, and, until recently, it has been rare to see a strong female protagonist; John le Carré's Charlie in THE LITTLE DRUMMER GIRL is one of the earliest to come to mind.  The thing I like most about Victoria Ichizli-Bartels's A SPY'S DAUGHTER is that an interesting woman is at the center of the story.  It's European setting and post-Soviet mood are also incredibly appealing.  Ichizli-Bartels does a good job of scene setting and character development.  My main issue with the book seems to be with its pacing.  The novel moves a little bit too swiftly for my taste, and it seems as though just when we're getting into a chapter and settling in, the scene is cut off.  Perhaps I'm a bit too used to the kind of spy fiction that le Carré writes, which is slowly and deliberately paced.  The pacing here often feels perhaps a bit more suited to the screen than to the page—this would make an excellent screenplay.  But since this is also book one in a series, perhaps this issue would seem less noticeable when all of the books are read together.  Having said that, the book's plot is fascinating, and the protagonist extremely well-drawn, which isn't always the case with spy fiction."